Archive for the 'Melbourne 2008' Category
Had a flight home just after lunch, so after another relaxed breakfast and packing our gear, we headed off towards the airport – we took the long way around, driving up Chapel Street and Toorak Road, looking at all the shops, before finally getting onto the freeway out to the airport to return the car and catch our flight.
Had a while to hang around at the airport before our flight, I got caught up on a bit of work while Leanne read some magazines. The flight was uneventful and we ended our trip by catching the train home to Artarmon.
A very enjoyable trip overall – especially managing to visit four different zoos (or sanctuaries / aquariums) while we were there.
Another quiet day today – after breakfast I stopped back in the hotel room for a little while to fix up some things on one of my website, while Leanne headed into town on the tram to go to the art gallery.
I eventually headed into town myself – this time walking down Acland Street to catch a different tram which didn't go down St. Kilda road – I wanted to go via a route I hadn't taken before. After wandering around a bit I met up with Leanne for lunch and we did some shopping before heading back to the hotel for a mid-afternoon nap.
I must confess that we did stop in at some of the cake shops on Acland street and bought a few things to take back to the hotel for dessert – yummy.
We started off a bit slowly today – after a lazy breakfast, we wandered along The Esplanade in  St. Kilda enjoying the Sunday morning markets before hopping on a tram into town.
One place I have been intending to visit for quite some time is the Melbourne Aquarium. We did visit quite a while back on one of our first trips to Melbourne, but never found the time to go again – even though I typically stayed in hotels an easy walking distance from the aquarium while staying in Melbourne for work all those years.
I must say I was a little disappointed with the aquarium – for the price you pay to get in, I'm really not sure it's worth while. It's certainly not as good as some aquarium's I've seen elsewhere. It was also very busy and noisy the day we visited, and it's never easy to take photos inside an aquarium, which also tends to frustrate me somewhat. You get that.
After the aquarium, we stopped for some lunch and a little bit of shopping before heading back down to the Crown complex and saw a movie at the cinema there.
There are a couple more photos in the Melbourne Aquarium gallery on ZooChat.
To complete the set of zoos from Zoos Victoria, we headed out to Melbourne Zoo today.
It has been a while since we visited the zoo, when I first started traveling to Melbourne regularly for work we visited the zoo more often, but the trips gradually became shorter and busier – and Leanne was not able to come with me so often.
We were impressed with some of the new facilities they have built since our last visit.
The Orangutan enclosure and interpretative centre is excellent – allowing you to get a great view of these amazing animals. I loved the enrichment games that you could try as well – although the Orangutans are generally much better at it!
I'm not sure if the butterfly house was there for our last visit – but I don't remember ever going in there before, so this was great to see something for the first time (even if it isn't actually new).
I quite enjoyed the Great Flight Aviary – a large collection of Australian native birds in a huge aviary – plenty tall and long enough for them to have a decent flight, and a large body of water for the water birds.
I've always quite liked their raised viewing platform for the Lions – gives you a great view of them.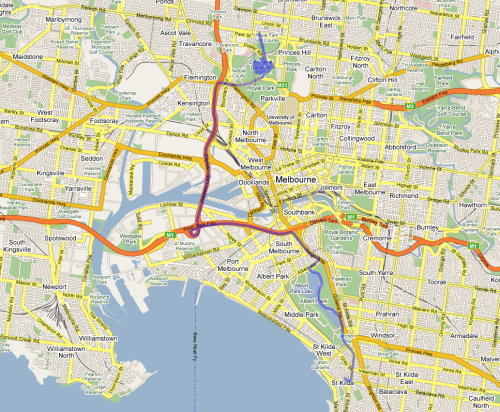 As usual, I have uploaded more photos from our visit to the Melbourne Zoo Photo Gallery on ZooChat
We headed the opposite direction today – north east of the city to the town of Healesville and the Healesville Sanctuary. It's quite a long drive, but well worth the effort to see their fantastic collection of Australian native animals and birds.
One thing that surprised us was the new Australian Wildlife Health Centre, which I expected to be just another boring "interpretive display", but this is actually a real working animal hospital – and is chock full of fascinating information about how they treat sick and injured animals, including viewing areas for their surgery rooms and other parts of the facility.
A real highlight of the day was the Platypussary – an outdoor viewing area for the platypus, and given we arrived there just as one of the bird shows was starting, it was quiet and the platypus were actually out playing. We were captivated for nearly half an hour by two platypuses swimming around their pools in broad daylight – something you rarely get to see!
The Birds of Prey and Parrots in Flight shows were both excellent. We were also impressed with the diverse collection of birds they keep at the sanctuary.
I did find it a bit ironic that one of my best photos of the day was of a bird not in an aviary – but wild. This gorgeous little Superb Fairy-wren hopped around my feet grabbing bugs, quite unperturbed by me snapping away on my camera. These guys have always been amongst my favourite birds.
Overall a very enjoyable day – we were impressed with all of the work they have done to the sanctuary since our last visit in 2002 – it is an excellent facility now and well worth the effort to get to.
I've uploaded more photos to the Healesville Sanctuary Gallery on ZooChat .
Tweets from today
off to Healesville Sanctuary

26th September, 2008 9:50 AM from web
trying to decide where to go today – Melbourne Zoo or Healesville Sanctuary

26th September, 2008 8:36 AM from web